At Mount Mary University, we offer scholarships to create an affordable path to your education. Scholarships are financial aid money that you don't need to repay. Scholarships are given for academic achievement, outstanding talent in a specific area or other qualifications such as student need.
Scholarship Programs: Up to Full Tuition
Available to incoming, first-year undergraduate students:
Academic Scholarships: $11,000-$18,000 (per year)
The chart below shows the scholarships available to incoming, first-year full-time undergraduate students. Use your GPA and ACT or SAT score to see which academic scholarship you are eligible for.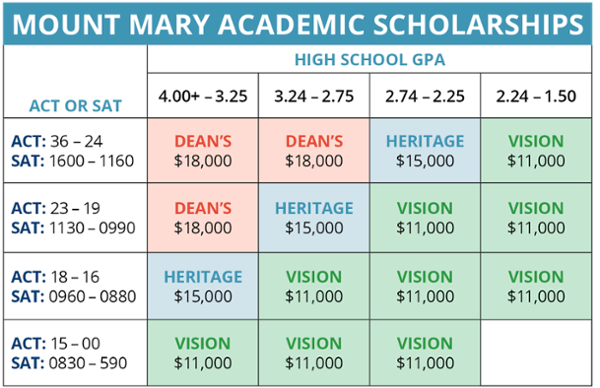 *Please note: Because of reduced tuition for the Nursing 1-2-1 Program, students in this program are not eligible for institutional merit scholarships.
Additional Scholarships: $500 to Half Tuition
Available to undergraduate students:
Transfer & Adult Scholarships: Up to $14,000 (per year)
Graduate and Adult Student Discounts: Up to 50% off
External Scholarship Opportunities
RaiseMe Micro-Scholarships
Available to incoming, first-year undergraduate students:
Mount Mary has partnered with RaiseMe
 to offer micro-scholarships that recognize high school students' everyday achievements and allow students to start earning money for college starting as early as 9th grade. Each student can earn up to $16,000 per year, which will be part of her Mount Mary University scholarship or financial aid award. She may receive even more in her scholarship or financial aid package once we review her application, but the money she earns from Mount Mary University on RaiseMe is the minimum guaranteed amount she will receive from Mount Mary. 
Click here for list of RaiseME FAQs
. To start earning micro-scholarships today, visit 
www.raise.me/join/mtmary
 and create an account.
Questions about Scholarships and Financial Aid? Contact us!
Financial Aid Office
2900 North Menomonee River Parkway
Milwaukee, WI 53222
Phone: (414) 930-3044
mmu-finaid@mtmary.edu